Working...

2016-2017 Pirates Wrestle to State Championship
Five Sperry Pirate Wrestlers Compete at State Competition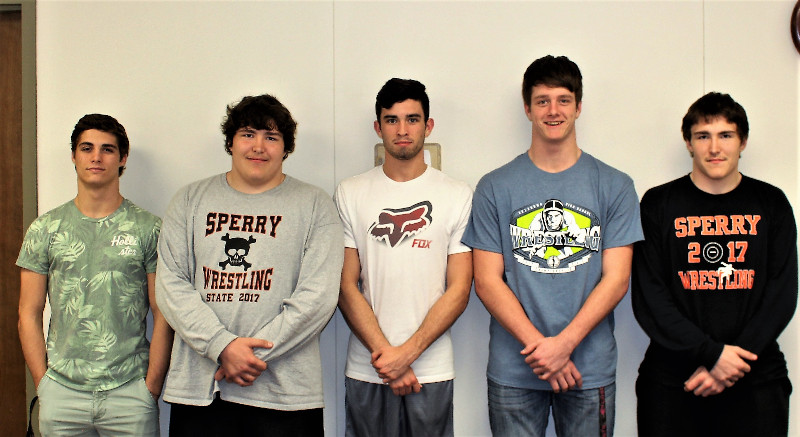 After a good season and top standing in the district duals, the Sperry Pirate Wrestling team had five wrestlers qualify for the State Wrestling Tournament in Oklahoma City, and three of these grappled their way to the podium for their weight class. The State finals were held Friday, February 24 and Saturday, February 25 at the State Fair Arena in Oklahoma City.
Sperry Senior Louden Akin was able to avenge a regional loss from the previous week to Jay's Jessie Hodge. Akin claimed the 132-pound state championship with a win by fall in 1:15 in the first round, a score of 7-6 in the second round, and a score of 6-5 in the finals. Akin beat Hodge who entered the state competition with a record of 47-2. Akin entered the tournament with a 39-5 record and ended the season 41-5 with a high school career total of 130 wins and 33 losses, the highest in Sperry Wrestling history. While Sperry Wrestling has claimed 30 championships in the school's history, Akin is also only the second to be State Champion and Valedictorian. Early in March, Akin was honored with the Oklahoma Coaches Association All-State award.
"Louden is a tremendous all-round athlete," Head Wrestling Coach Robert Park said. "He is also a tremendous football player and received all-star by class honors 3A running back. He was a tremendous leader in both sports and never missed a day of summer workouts."
A.J. McEntire, a junior, had a strong state tournament showing. McEntire was pinned in his first match, won his second by pin, and his third by a 9-1 decision. He entered the tournament with a 28-17 record, and finished the year with a 29-19 standing. He claimed his spot at the awards podium with a fourth place finish in the 182-pound weight class.
Tyler Thompson, a junior, came to the tournament with a 32-12 record. He lost his first match in a 10-3 decision, won his second in a 1-0 decision, won his third after a tense 7:19 minute battle, and lost his final match in a 5-3 decision. He wrestled his way onto the state championship podium with a fourth place finish in the 195-pound bracket. Thompson completed the season with a 34-14 record.
"We had a good season," Head Wrestling Coach Robert Park said. "They wrestled well all season, and we swept through districts. I'm not surprised how well they did at State. All five of our state-qualifying wrestlers worked hard to get here and deserve the accolades that come with being a state contender."
Bailey Clampitt and Nathan Thompson, both juniors, also competed at the state tournament. Clampitt entered the tournament with a 30-12 record. He lost his first match in a 4-2 decision, and won his second by a pin after a 2:21 minutes match. He lost his third match after a grueling 5:57 struggle, ending his season with a 31-14 record. Thompson entered the tournament with a 26-8 record. He lost his first match in a 6-1 decision, won his second after only 35 seconds of action, and fell in his third match after a 2:39 minute bout. Thompson ended the season with a 27-10 record. "Both of these wrestlers made it to the semi-finals, and were just one match away from taking home a metal, and they have another year to prepare to do just that," Coach Park said. "I know they'll be looking to return to the state tournament throughout next season."
The five Sperry wrestlers proved their skill on the mat revealed their teamwork at the state tournament as well. In the overall team rankings for the tournament, Sperry ranked seventh out of 34 total 3A teams.