Working...

Sperry Public Schools Announces 2020-2021 Site Teachers of the Year
During this difficult time, teachers have asked more of themselves than ever and committed themselves to hours of additional work, most of it behind the scenes and rarely noticed by anyone outside of the school system. Therefore, as teachers at each site searched among their peers for that one teacher who should represent them all, the task to determine their Site Teacher of the Year must have been more arduous than usual.
Sperry Elementary School 2020-2021 Teacher of the Year: Amie White
Mrs. Amie White is in her 16th year of teaching, all of which has been at Sperry Elementary where she teaches Kindergarten. Elementary principal Richard Akin stated that "Mrs. White is an amazing teacher that uses a variety of instructional strategies and radiates a passion for teaching that is evident in the success of her students." One of Mrs. White's former students said that the thing that she remembered, "Mrs. White never was upset and always had a smile on her face no matter what was going on, we could definitely tell that we were loved by Mrs. White." Another student recalled that "learning was always fun in her class."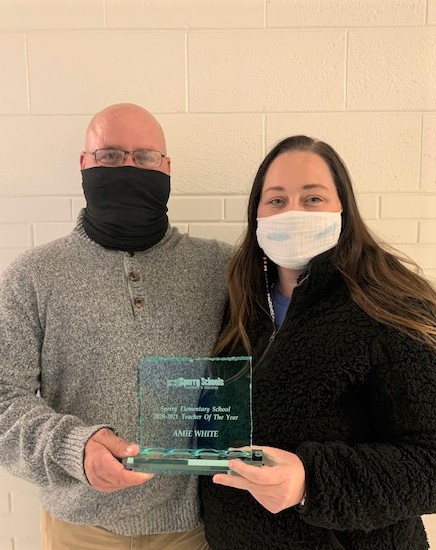 Elementary Principal Richard Akin presents Amie White with the 2020-2021 Elementary Teacher of the Year award.
Sperry Middle School 2020-2021 Teacher of the Year: Lauren Emery
Mrs. Lauren Emery, currently in her 11th year of teaching, has spent all but two years of her career at Sperry where she has split her time teaching mathematics between the Middle School and High School buildings. Middle School principal Mike Juby said, "Mrs. Emery does an excellent job of organizing, explaining, and differentiating lessons in each of her classes. She is always available to help others and step in when needed." One of Mrs. Emery's students noted, "Mrs. Emery is always helping us to believe in ourselves. She is always here to help us, she believes in us and that helps me to believe more in myself. She is the one teacher I know I could go to for anything I need help with." Another student added, "Mrs. Emery is always understanding, kind, and very patient. She's my favorite teacher."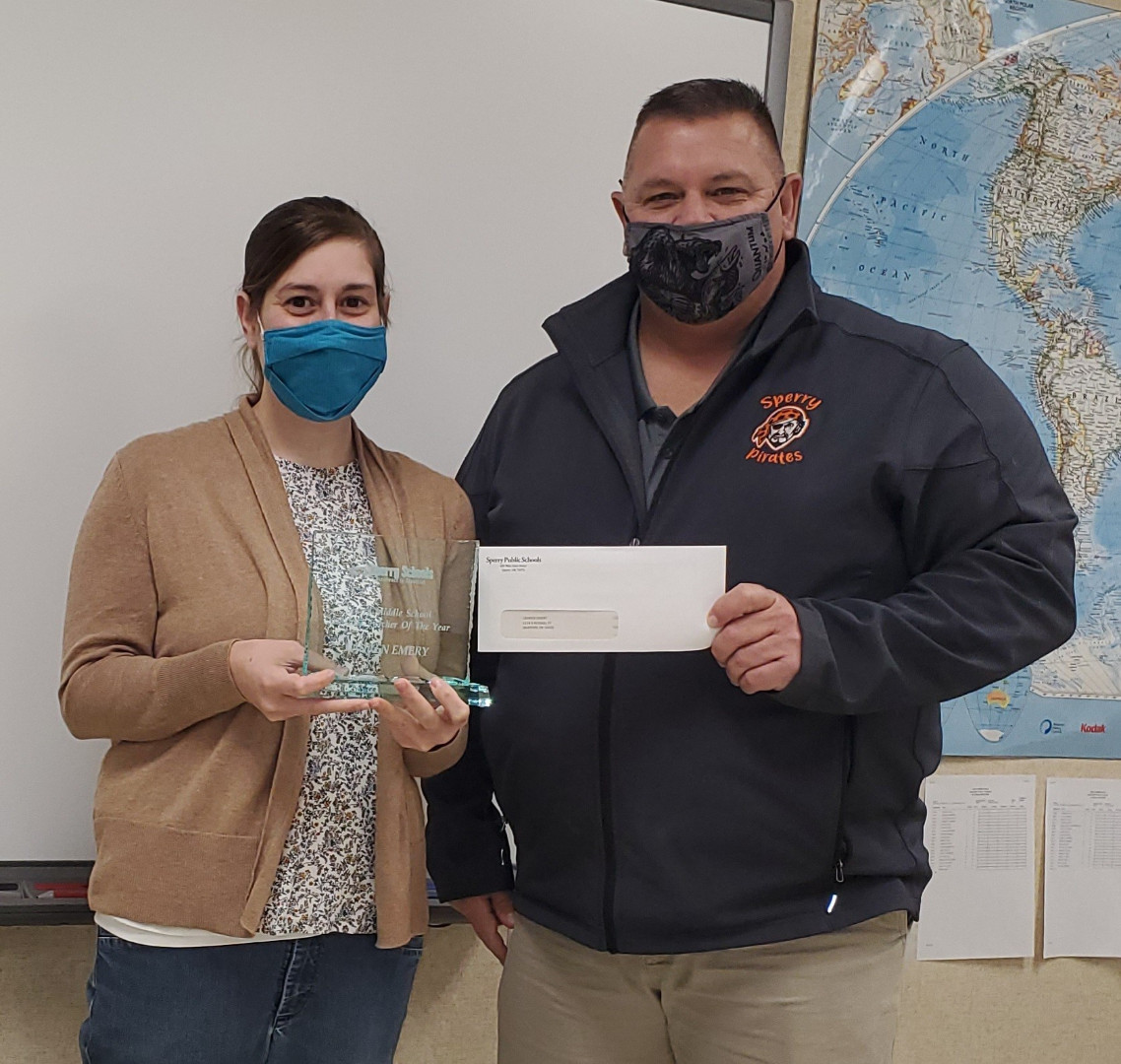 Lauren Emery receives her 2020-2021 Middle School Teacher of the Year award from Middle School Principal Mike Juby.
Sperry High School 2020-2021 Teacher of the Year: Tony Winefield
Mr. Tony Winefield has taught and coached at Sperry for 10 of his 30 years in education. Now in his 31st year in the classroom, Mr. Winefield manages to maintain the energy and drive to teach social studies and be the sponsor/advisor for the district's yearbook staff. High School principal Randy Shaw said, "Mr. Winefield is a hard-working teacher who is dedicated to providing quality education to each student." One of Mr. Winefield's students said, "He wants us to get meaning from what we learn. It's easy to see he cares about us students." A previous student of Mr. Winefield's class said, "It isn't enough for Mr. Winefield to tell us what we are supposed to know, he makes us think about what we are learning."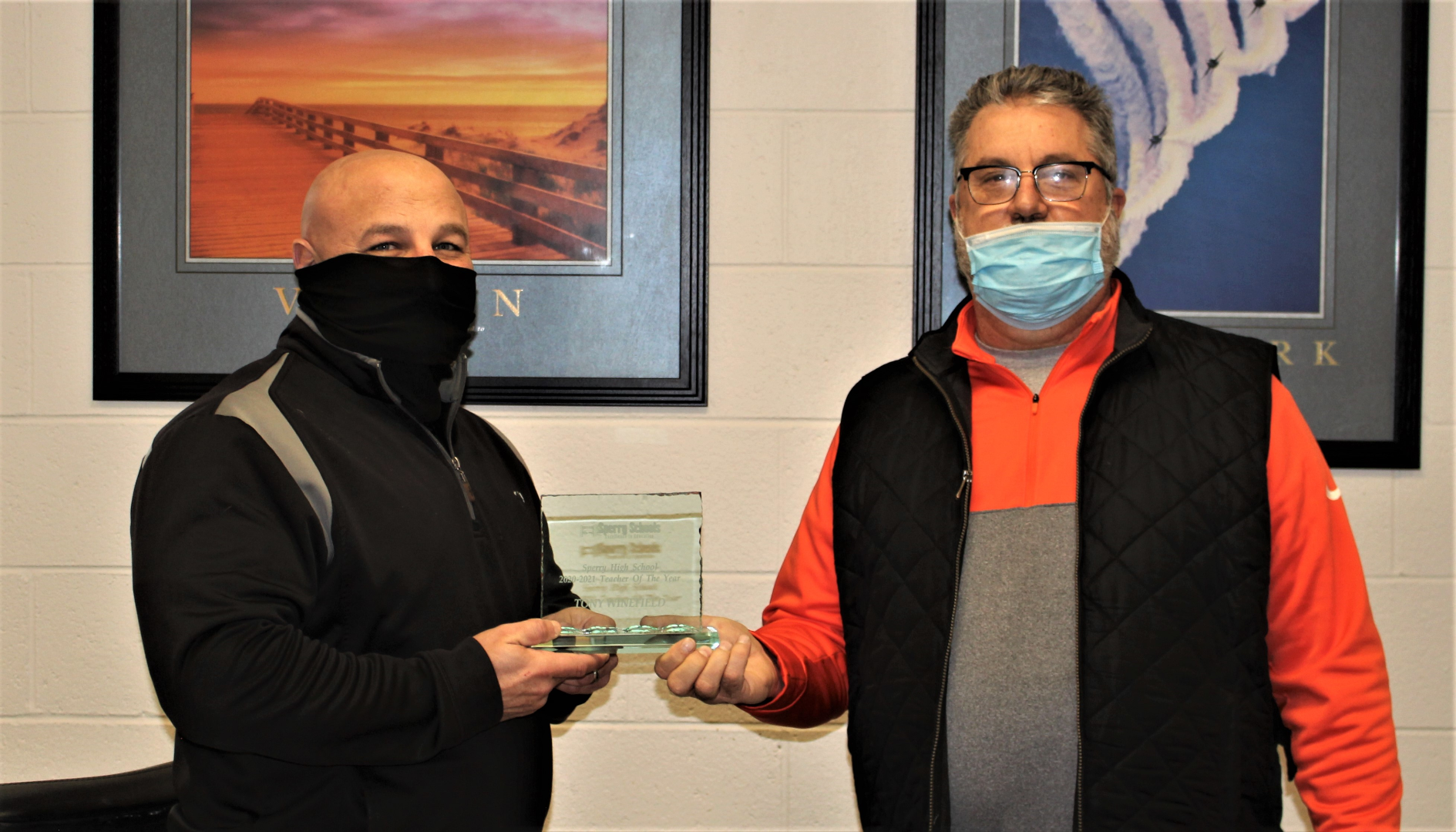 High School Principal Randy Shaw presents Tony Winefield with his 2020-2021 High School Teacher of the Year Award.
The site Teachers of the Year will each submit an application with a personal biography and their philosophy of teaching for review by the District Staff Development Committee. After carefully reviewing the applications, the committee will announce the District Teacher of the Year later in the spring semester.